Hot News
Detail Pve Guide To Eso Dragonknight In 12-Player Trials
6/7/2014 7:34:36 PM
different players have different gameplay in the elder scrolls online. when you enter the trials, you will find that your past guide is not very useful. even if you have excellent eso items, good abilities and potions, it is quite difficult for most of groups to defeat bosses in trials. thus, we discuss about the dragonknight in eso 12-player trials.

tank

in general, dragonknight often plays tank role in the elder scrolls online.
for dragonknight tank, taunt is necessary. based on the battle situation and bosses, tank must choose proper abilities. there are two types of tank: the light-armor tank and the heavy-armor tank. in trials, the heavy-armor is better than the light-armor in terms of block and cost reduction. many of bosses in trials can cast horrible aoe abilities with heavy damage. block in the whole battle is he key to survival. in all, the advantages of the heavy-armor tank are obvious in trials.
however, what about the light-armor tank in trials? take my light-armor tank for example. my tank is equipped with seven light armors. he succeeded in defeating the first four bosses in trials. hence, it can be said the light-armor tank is able to challenge eso veteran content.
(3 items) part of the vestments of the warlock: once per minute, when below 33% magicka, gain 198 magicka.
3 battlefield pact (rogdan's flame+ 2 rings) + 3 items to add 5% critical strike
weapon: two-handed rogdan's flame.
dps

in eso trials, high dps plays an important role, which makes your groups more easily defeat veteran bosses.
dragonknight is the class who can deal the highest dps in the game. how much dps has dragonknight? without standard of might, the dps of my dragonknight are 300~360. when standard of might is available, my dps are higher, about 500.
abilities: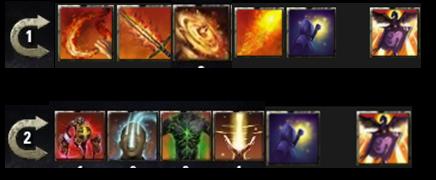 there are three dot and high critical strike for drangonknight, so that he can efficient to cast the deadly ability, then uses molten whip+ standard of might to slay monsters. the specific date as follows: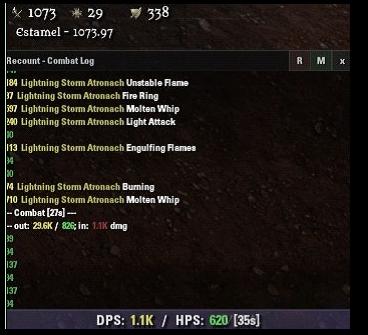 when he fights against the second boss in trials, dragonknight with destruction staff can deal 700 dps at least

healer

for most of 12-person groups, healer is often temple or sorcerer. for dragonknight, i choose two healing abilities (look at the ability above) to deal with some emergency situations for restoring health. the best healing weapon for dragonknight, of course, is restoration staff. especially, combat prayer can heal allies in front of players. the affected allies can not only gain armor and spell resistance but also have 8% of additional damage for the duration.