Hot News
NBA 2K21 Best Jumpshot After Patch 4 - Top 3 Custom Jumpshots With 100% Green Window In 2K21
2/26/2021 4:04:56 PM
After the newest patch 4, here we bring you 3 different types of NBA 2K21 best custom jumpshots. For people who can't time their shots correctly, and for people who can't not green consistently. Every jumpshot is unique in its own way, so choose the best jumpshot depends on your play style. One of them has a bigger green window, the other has smaller. One has a bigger white percentage, the other has smaller.
NBA 2K21 Best Jumpshot After Patch 4 - Top 3 Custom Jumpshots With 100% Green Window In 2K21
Custom jump shots NBA 2K21 are helpful, due to the fact depends on you how to determine the queue of the jump shot. But they actually don't do anything to change the jump shots green window size and percentages. The truth is the benefits of custom releases are giving you a different arc on your jump shot, so that you can shoot it a little bit higher and where to release the shot. For players who don't know what a green window is, it's the size in your jump shot in which you're able to get a green. Next, we are going to show you the best NBA2K21 custom jumpshot created by Youtuber BADGEPLUG.
Jumpshot 1 - Best & Fastest Jumpshot In NBA 2K21
This is the fastest and best NBA 2K12 jumpshot after patch 4, has the best total make percentage, fast speed and 37 green windows, but without the biggest green window. Release speed also acts an important role in games. If you max out release speed, will lower your green window instead. With this 75% release speed, it allows you to green more, but it's going to be a little bit harder to get into the window to time. If you are not able to green a lot, then this is the NBA 2K21 best jumpshot for you. If you time the jumpshot very well, you will be able to make white percentage.
Base: Jump Shot 93
Release 1: Release 15
Release 2: Release 24
Release Speed: 75%
Animation Blending: 60% Release 15/40% Release 24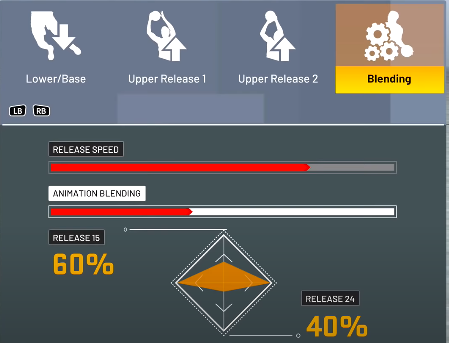 Jumpshot 2 - Best NBA 2K21 Custom Jumpshot 100% Green Window
This is NBA 2K21 best custom jumps shot that's all about Stephen Curry, which allows you to time better consistently. What's more, this unstoppable NBA 2K21 custom jumpshot has a bigger green window size, which helps you green as much as you can. If you are not good at time your jump shots, you are about to have a better chance of getting in green window to hit your shot.
Base: Stephen Curry
Release 1: Stephen Curry
Release 2: Stephen Curry
Release Speed: 75%
Animation Blending: 100% Stephen Curry /0% Stephen Curry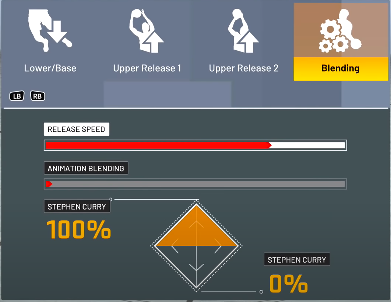 Jumpshot 3 - Best NBA 2K21 Custom Jumpshot
The arc of this shot is going to let you shoot over people a bit more.
This Base: Dwyane Wade
Release 1: Dirk Nowitzki
Release 2: Rudy Gay
Release Speed: 75%
Animation Blending: 49% Dirk Nowitzki / 51% Rudy Gay