Hot News
Blade And Soul Detailed Guide On Weapons, Gems And Items
3/31/2016 10:10:23 AM
let's start with arms. blade & soul uses a weapon system that replaces evolution of classical mechanics. the weapon you get early in the game, the epic weapon named hongmoon, is a weapon that you can upgrade using the other weapons that you will find throughout your adventure. the latter, in its final form, will be a legendary weapon. throughout its evolution, it will gain levels and become more powerful, greatly increasing your damage.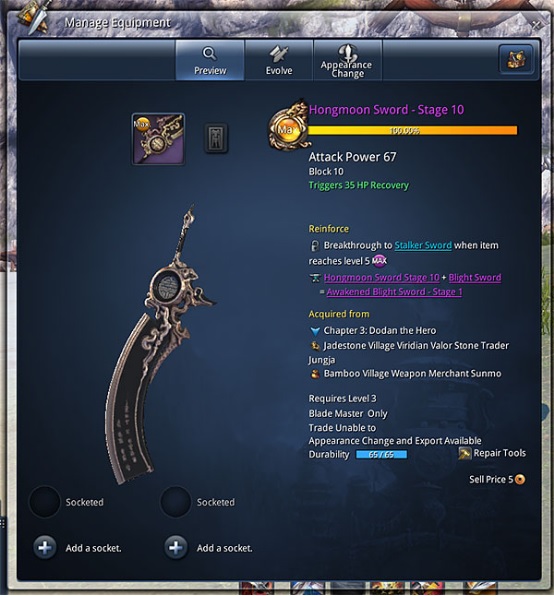 some items and gems of experience give a lot of experience and help quickly level up your weapon. it is important to note that over the evolution, it will be costly which makes the use of very useful high-level gems. the advice i would give is to store these gems in your trunk and wait for the maximum level. however, some gems are only effective up to level 36.
you should also note that when the weapon experience bar reaches the maximum, you will need a specific transformation of weapon which will be indicated as well as a material for evolution. these objects can be found in the location shown under the title "origin" contained in the weapon description.
as regards the items, there are several pieces of item:
accessories: you can press the f3 key to find the list of objects to find and drop many in the world of blade & soul.
head accessories: it is only cosmetic and like the first, you can access the list of objects that match that location in the wardrobe (f3).
collar: the collar is one of the pieces of item that provides statistics on your character. just like the weapon, it will evolve the first collar that you will receive (epic necklace hongmoon) and keep it until the end of the game.
ring: this piece of item works just like the necklace.
earring: this piece of item works just like the necklace and ring.
face adornment: cosmetic item appears in the list of objects of the wardrobe with the f3 key.
bracelet: this item added bonus but it will be found at the top level.
belt: this item will be available to high-level, like the bracelet, and it will give bonus features. the easiest way to have a belt is to buy 10 stone blue mermaids bravery in one of the last areas of the game. the other way is to drop pending high level. anyway, the bracelet and the belt will not be available until late in the game.