Hot News
Tips Of Archeage Farming / Planting For Beginners
10/28/2014 2:20:38 PM
there are many agricultural products in archeage, general speaking, the more expensive of seeds, the longer grow and the higher profits can be obtained. growth of the time according to calculate the real world, rather than the game time.

simple steps to farming, feeding and planting. buy seeds to merchant with archeage gold, right click seed in your bag, then plant into the region, waiting the time to grow, harvest, collect, logging. when you are lv10, will appear the farming quest in npc with green grass in his head. there are 4 different types of farming.

planting: vegetables, flowers
planting: trees, woods and fruit trees
aquaculture: shellfish
feeding: chickens, ducks, geese, sheep, cattle

farm
there are 5 farms are protected, meaning that you planted or feeding can not be stolen by other players in a certain period of time.
small scarecrow: 8 * 8 only patron.
large scarecrow: 16 * 16 only patron.
aqua farm: 16 * 16 only patron in specific underwater area.
house / farmhouse / marine house:only patron item, your things will be protected. farmhouse have more land, and marine house can be placed on the water.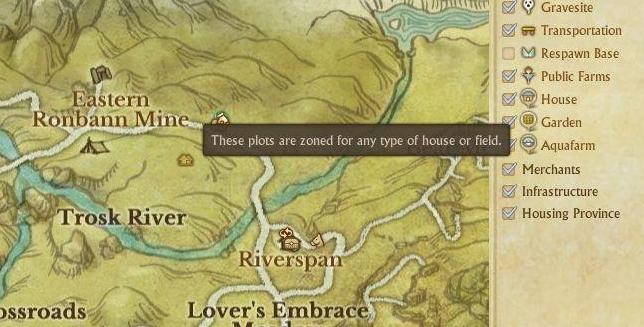 public farms: 24 hours protection time, every player can use it, not patron also can use. there is a "scarecrow"pattern on the public farm map. but you need know not everything can plant or feed in here, and there is a limit in quantity, about 5-10. there are 4 types you can plant and feed in public farm in eastern and western continent.

farm: rice, barley, potatoes, carrot, onion, cucumber, chicken
ranch: rice, barley, chicken, duckling, gosling, turkey
stall / stable: mount, parenting dedicated
nursery: grapes, hornbeam, apple, lemon, fig, avocado

western continent
farm: solzreed penisula, gwenoid forest, lilyut hill
nursery: white arden
ranch: dewstone plains, cinderstone moor
stable: solzrred penisula, gweniod forest

eastern continent
farm: falcorth plains, arcum iris, tigerspine mountains
nursery: solis headlands
ranch: mahadevi
stable: arcum iris, falcorth plains

in other world area, there are many planting and feeding area in archeage. in these areas planted or feeding, we usually call "wild planting" or "wild feeding". wild planting does not have the kinds of restrictions like public farm, but is not any protection, other players can uproot with cost labor during the growing, or collect, harvesting after the plant has grown. if you want to wild planting, need find the hidden place, do not plant the seeds or trees with high price. there are many players like stealing, and the punishment mechanism is not serious. of course, there are some special plants and seeds are only get by wild harvest.