Hot News
View The Items' Tier & Prices In Each Rocket League Crate On Our Rocket League Prices List (Ps4, Xbox One, Pc, Switch)
5/14/2018 10:53:13 AM
greetings everyone! have you used our daily updated rocket league trading prices list for ps4, xbox one, steam pc and nintendo switch before you make trading? in order to help every rocket league player get a good-idea about the correct value of the items and do better trading in rocket league market, we have been continually improving our rocket league prices list with new features. in our previous articles we have introduced these new features. and today, we added a new feature to our prices list again, with which you can view all the items you can obtain from this rocket league crate, also can see the tier and price of each item easily!
since the full list of rocket league trading prices for the items on xbox one, steam pc, nintendo switch and ps4 released on our site, fast search tool was added to help you find the price of one certain item; after then prices for painted items in different colors were supplemented, prices for painted items in different colors and the price index for each item is added to this list; few days ago, we updated the rocket league prices index for xbox one in our price list! you can check the correct and timely rocket league xbox one trading prices in crates here to get know every xbox one item's value in market! and now the contents of every rocket league crate and prices for each item subjoin in the list.
rocket league crates items prices & values
from now on, you are not only can check the rocket league price in keys/crates of every rocket league crate on rocketprices.com's rocket league prices index list, but also can view the items you can obtain from each crate, see items' tier, search the price for each crate item, with this you can get know the value of each crate, follow below steps to check out:
1. open rocketprices.com, click trading prices on the navigation bar to enter the rocket league prices list
2. select the platform by clicking the one you want to check out
3. select crates, you will see the prices of all rocket league crates
4. click view items, then you will see all contents of the crate on a new window
5. on this new window, you can see all the items you can obtain from the crate are listed in different catalogues (such as wheels, trails, goal explosions, boosts, bodies etc.) with prices and tiers (black market, very rare, import etc.)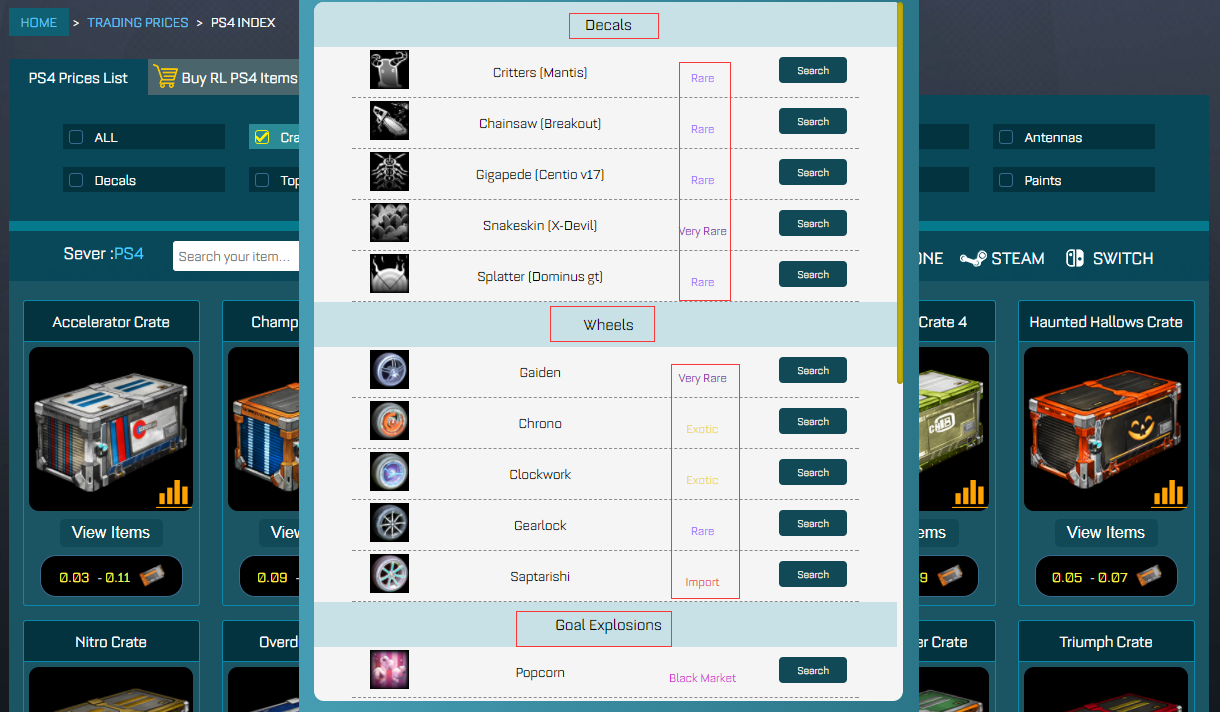 6. click search at the right side of each item, enter the page showing the price for the all painted colors of the item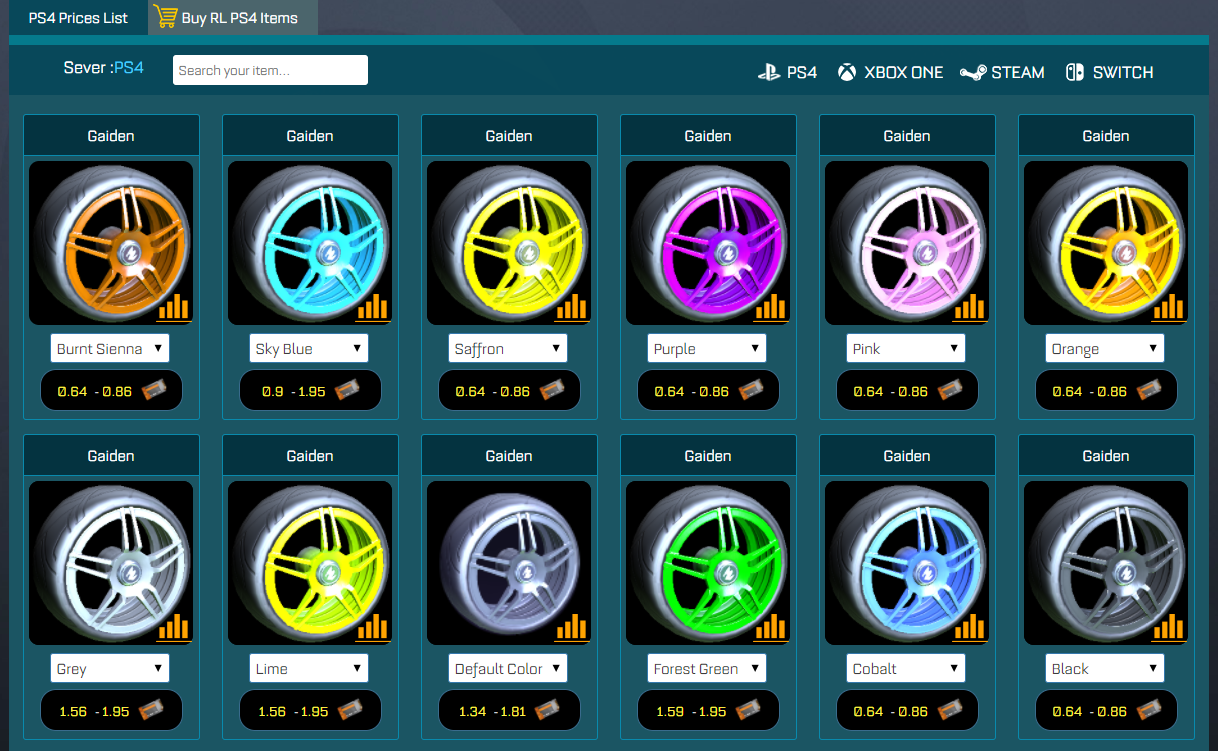 watch below video to get know more details:
it's our pleasure if it is useful to you. we will keep improving to meet every rocket league fans demand. stay tuned! by the way, if you are looking for a reliable place to sell or buy rocket league tradable keys, crates and items, rocketprices.com should be your first choice with supporting favorable, fast safe transaction!