Hot News
FFXIV: ARR Patch 2.38 Content Overview
9/16/2014 2:40:53 PM
It is reported that FFXIV: ARR Patch 2.38 will be released around the timing of the Tokyo Game Show, which will be held from Thursday, September 18 to Sunday, September 21. Now, there is the latest Patch 2.38 content to show at FFXIV official website.
Individual House
For a FF14 player, you can buy the land where your house is located in. And the price of the plot is the same for free company and individual player. Look at the following the picture, you will spend 4,601,00 ffxiv gil on the land. What a expensive plot.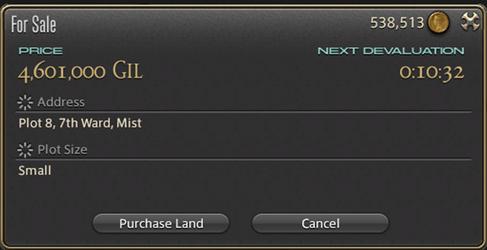 Relic Weapon Nexus
Nexus Weapon is powerful in Patch 2.35. In the upcoming Patch 2.38, there is no doubt that Nexus Weapon is more useful and powerful. Furthermore, if you equipped your class with a relic weapon novus or a relic weapon nexus in the FATE battles, you will have a chance to get alexandrite as rewards. Most importantly, Nexus Weapon will be upgraded from Level 3 to Level 4, to be the top-level in the new patch. Additionally, to obtain a relic weapon nexus, you can obtain an achievement. It seems to be cool!




New Sidequests
There will be new side story quests to add in Patch 2.38, such as Mmmmmm, Soulglazed Relics; The Captain of Her Heart; Of Siblings and Side-whiskers; Sweet Words, Shadowy Dealings and Sudul Eht Nioj. Completing the sidequest, you will gain rich rewards. For example, if you complete the quest "Mmmmmm, Soulglazed Relics," you will be able to alter the materia-enhanced properties of your relic weapon novus or relic weapon nexus.
Item Comparison
There is a item subcommand "Item Comparison" added in the new patch. It is convenient to compare items.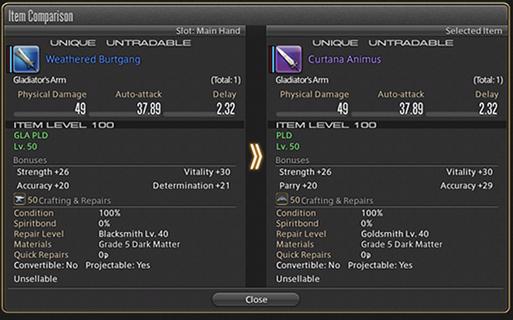 New Emotes
The following new emotes have been added.
-Hug (/hug)
-Lap (/slap)
Visual Alerts
to make you enjoy an enjoyable, accessible gaming experience, Visual Alerts will be added to the System Configuration menu. (Windows® version only). You will see a visual representation of the various sounds emitted within in the game.