Hot News
Check Current Rocket League Prices Index On RocketPrices.Com, Updated Daily!
2/24/2018 10:33:42 AM
Check out the real-time accurate Rocket League Prices in keys for the items before trading on RocketPrices.Com! There you can see the most comprehensive and accurate Rocket League Prices list for all platforms (PS4 prices, XBOX prices, Steam PC prices and Switch prices), and check the value of every single Rocket League item fast and easily.
Check Rocket League Prices Before Trading On RocketPrices.Com
Before you make a Rocket League Trading, the first and most important thing you should to do is get know the current Rocket League prices index of your wanted items. To help every player to take a good trade and make sure you know the prices before they accept their deal, we daily update Rocket League Prices list to give everyone a better experience on Rocket League while trading, updated by active and professional trades, sourced from all over the Internet. Prices for Rocket League crates, battle-cars, wheels, boosts, antennas, decals, toppers, goal explosions, trails, banners and all tradeable items you can find on our price list. As the prices of Rocket League items are different on different platforms, so we divided the Rocket League Prices list for four platforms - PS4, Xbox One, PC and Switch.

How To Check Daily Rocket League Prices In Keys On RocketPrices.Com
1. Click Rocket League Trading Prices go to start check.
2. All you have to do is select one of the platforms (PC prices, PS4 prices or XBOX prices.), as you know the prices are different on the four platform. You will then be able to view the prices for the platform you have chosen.
Rocket League Nintendo Switch Prices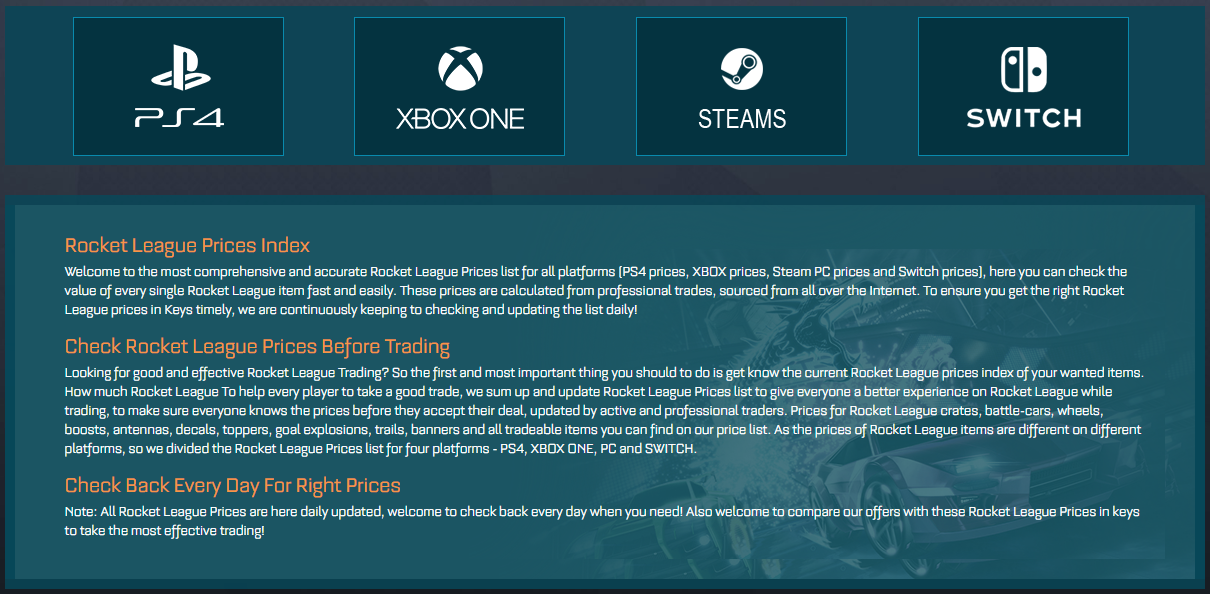 3. Click items type name to find out the items you want to check, you will then see the current price of the item under it's icon.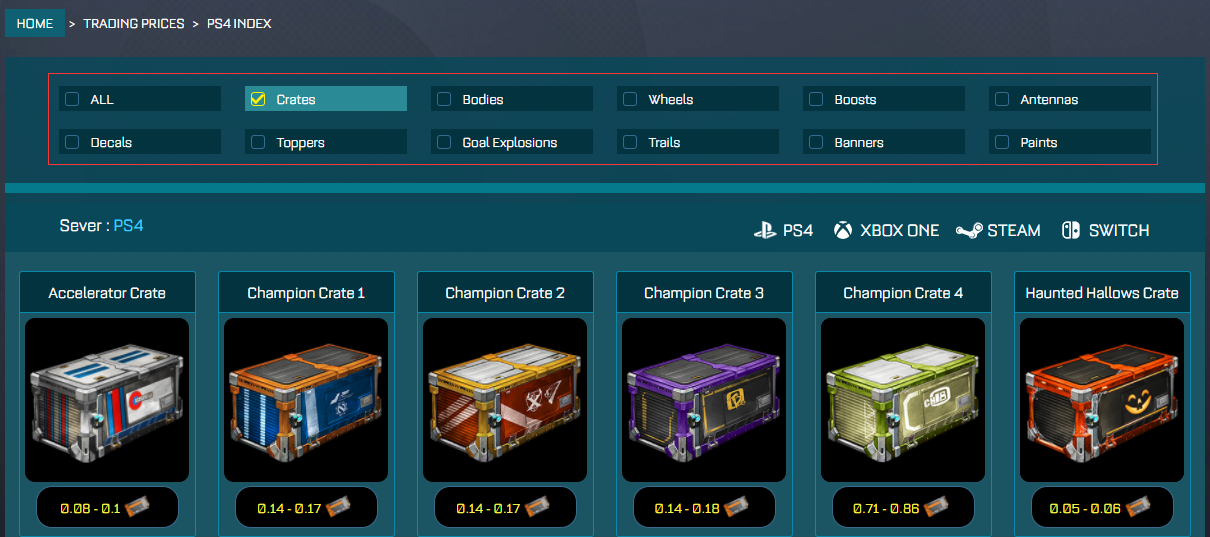 Note: All Rocket League Prices are here daily updated, welcome to check back every day when you need! Also welcome to compare our offers with these Rocket League Prices in keys to take the most effective trading!
Welcome To Buy & Sell Rocket League Items, Crates, Keys On RocketPrices.Com
No matter you are in market of Rocket League Items, crates and keys, or looking for a reliable online trading to buy Rocket League Victory Crates to start new season 7 in the game, Our professional Rocket League store - RocketPrices.com is now offering service for the popular game currently, such as Rocket League Keys, Crates, Battle-Cars, Wheels, Decals, Boosts etc, also we invite you to sell your extra Rocket League Items for cash or keys on RocketPrices.Com. We can always meet all Rocket League gamers demand with favorable price, thoughtful service and deliver timely.