Hot News
Poe 1.2.0 Scion Build: Massive Spell Coc Discharge Guide
8/26/2014 5:04:36 PM
path of exile coc build has become stronger in patch 1.2.0 according to our former search on passive skill tree. we are here today to discuss a great path of exile scion build with coc discharge made by an experienced player in the forum. wish it can help you create your own build in forsaken masters.

path of exile items
most of the items in this build are easy to farm except the attached one, we mainly desire its attribute "gain a power charge for each enemy you hit when a critical strike". the other items are valued for critical damage, enemy shield, and elemental resistance etc. the weapon choice is a dagger and a shield which is classic in critical damage build.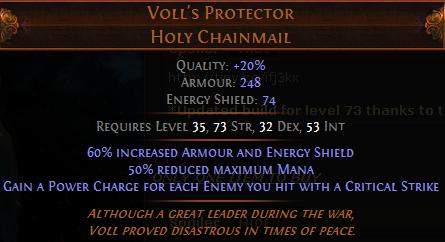 poe skills combinations

spectral throw + cast on critical strike (coc) + discharge + gmp
cast when damage taken + assassin's mark + molten shell + warlord's mark
reduced mana + haste + clarity + hatred (used for utility)
lightning warp + portal + faster casting

passive skill tree

we should notice such passives as attack speed, spell damage, increased life and mana reduced mana, dagger damage and attack speed, charges and so on in this build. you can click the link to see the detailed tree, no key stone is lighted till its 70 level, which is not normal, but it is also a sign that this build has a wide space to recreate, do you think so?

gameplay
the skill spectral throw with coc and discharge will have a beautiful and useful effect in the game, let's see how the player desirable it for us.


bandits selection
normal - help oak - +40 base life
cruel - help kraityn - +8% attack speed
merciless - help alira - +1 max power charge

welcome to turn to goldah when you need support in poe 1.2.0.